Sarah Little, AB
1
, Jennifer Ratcliffe, MD, PhD
2
, and Aaron B. Caughey, MD, MPP, MPH
1
. (1) UCSF, San Francisco, CA, (2) Advanced Fertility Associates, Santa Rosa, CA
Purpose:
We sought to analyze the outcomes and cost-utility of transferring between 1 and 5 embryos per in vitro fertilization (IVF) cycle.
Methods:
Data from the 2003 Assisted Reproductive Technology Report and literature review was used to create Markov decision analytic models stratified by maternal age subgroup. The models compared transfer of between 1 and 5 embryos per IVF treatment cycle and accounted for both fresh and frozen embryo transfers from non-donor eggs. Baseline analysis allowed for a maximum of 5 IVF treatment cycles. Clinical outcomes included gestational number, preterm birth, and neonatal morbidity (cerebral palsy). A decision analysis was performed using discounted maternal quality-adjusted life-years (QALYs). Cost-utility analysis was performed from a societal perspective. Sensitivity analysis and Monte Carlo simulation were used to test for robustness.
Results:
For women under age 35, total QALYs increased slightly with increasing number of embryos transferred (Table). This increase was not cost-effective at $191,000 per QALY for 2 as compared to 1-embryo transfers. 1-embryo transfers became relatively more effective when increasing the maximum allowable IVF treatment cycles. At 10 allowable cycles, 1-embryo transfers were the most effective, and thus the dominant strategy in cost-utility analysis. For older women, however, transferring more embryos led to a relatively greater effectiveness advantage. For women over 42, increasing the number of embryos was incrementally cost-effective ranging from $7,000 to $20,000 per QALY for each additional embryo transferred.
Conclusions:
Transferring more than 1 embryo per IVF treatment cycle is not a cost-effective strategy for women under the age of 35. However, multiple embryo transfers become more cost-effective with increasing maternal age. Additionally, for younger women the decision analytic and cost-effectiveness results are improved by increasing the number of allowable IVF treatment cycles.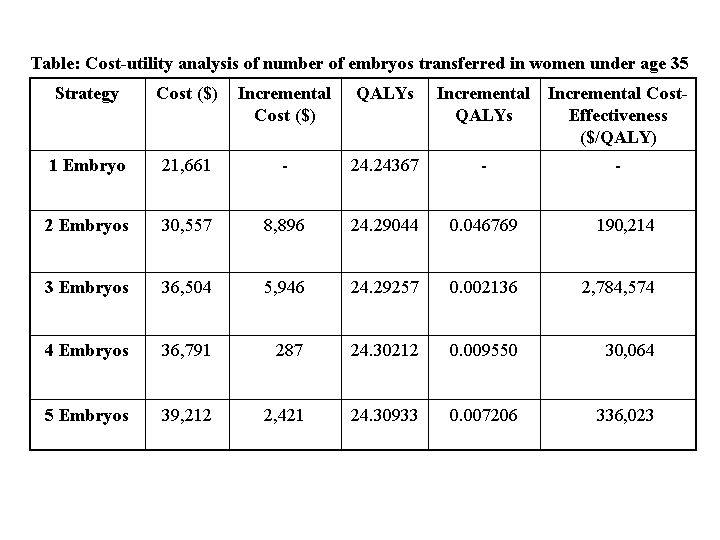 See more of Poster Session I
See more of The 28th Annual Meeting of the Society for Medical Decision Making (October 15-18, 2006)